warm up with these cocktails!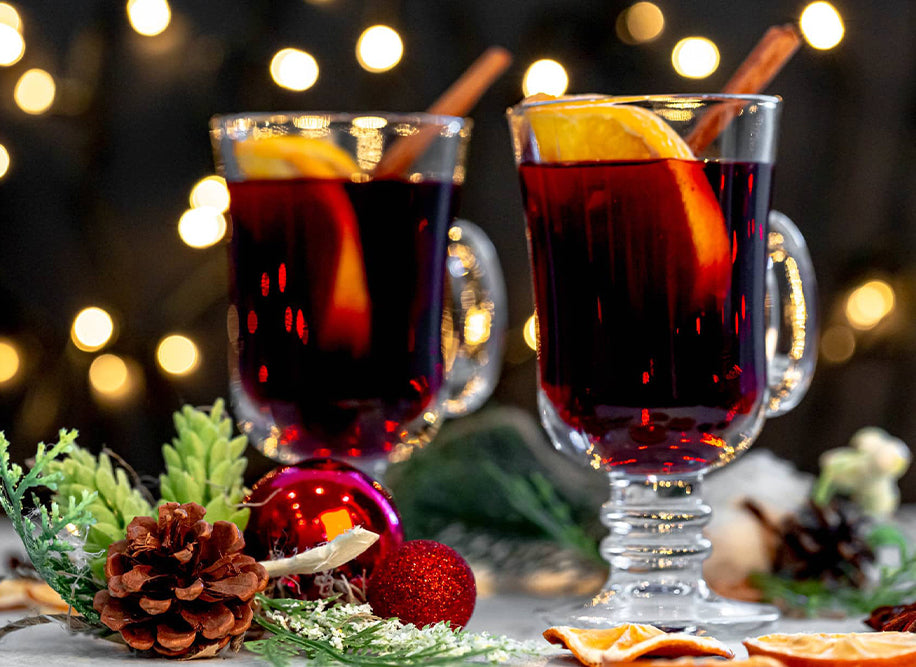 During the holiday season, there's nothing quite like curling up with a blanket and a warm beverage, especially when there's alcohol involved.
Everyone, gather round the Christmas tree, for I have a few drink recipes to share that will get you in the cozy, Christmas spirit! With all these recipes, you'll be a pro bartender in no time.
As always, my drinkware is the perfect vessel for these warm drinks, especially my "coffee" mugs ;)
1. mulled wine
This one will warm you right up!
1 750mL bottle red wine
1 orange, sliced into rounds
6 whole cloves
3 cinnamon sticks
3 star anise
¼ cup honey
½ cup brandy 
Combine all ingredients in a saucepan over medium heat. Bring to a simmer, then reduce heat to medium-low. Simmer over low heat for 10 minutes and serve warm. Yum!
2. hot buttered rum
This one's a classic, with all of the cozy, winter flavors in one drink!
2 oz gold rum
1 tbsp hot buttered rum batter
boiling water
cinnamon stick
nutmeg
Add your rum and batter into a mug and fill with boiling water. Give it a good stir and garnish with nutmeg and a cinnamon stick!
3. angry jolly juice
While this shouldn't make you angry, it'll sure make you jolly!
1 ½ cups Angry Orchard Cinnful Apple
2 cups water
1 cup cranberry juice
½ cup brandy or spiced rum
½ cup light brown sugar
3 tea bag of chai tea
Bring the water to a boil, then reduce to low heat. Add the tea bags and let steep for 2 minutes, then remove the tea bags. Add the rest of your ingredients and give it a stir. Let simmer over low/medium heat and serve hot.
4. hot toddy
You can't go wrong with this one! 
boiling water to fill a mug
4 cloves
1 lemon peel
2 tsp demerara sugar or brown sugar
¼ oz freshly squeezed lemon juice
2 oz whiskey
FIll your mug with the boiling water and let sit for 2 minutes, then pour out. Stick the cloves into the lemon peel and set aside. Fill the mug about halfway with boiling water and stir in the sugar until dissolved. Add the lemon peel, the whiskey, and the lemon juice and stir to combine.
5. irish coffee
A perfect fit for Christmas morning!
8 oz hot water
1 tsp light brown sugar
½ c brewed coffee
1 oz irish whiskey
¼ c heavy cream
FIll your mug with hot water and let sit for 2 minutes, then pour out. Add in brown sugar and then pour in hot coffee. Stir to dissolve the sugar and then stir in the whiskey. For the cream, whisk the heavy cream until soft peaks form. Gently pour cream over the back of a warm spoon into the coffee, to form a thick layer. Enjoy!
6. warm apple pie cocktail
You mean you can have your pie and drink it too? Count me in!
6 oz warm apple cider
2 oz Tuaca liqueur 
whipped cream
pinch of cinnamon and nutmeg
In a coffee mug, combine the warm cider and Tuaca. Top with whipped cream and sprinkle on some cinnamon and nutmeg if desired. And you're done! Super easy!
Happy Holidays and Merry Christmas!
Cheers,
Pleep
---