10 of the coolest home bars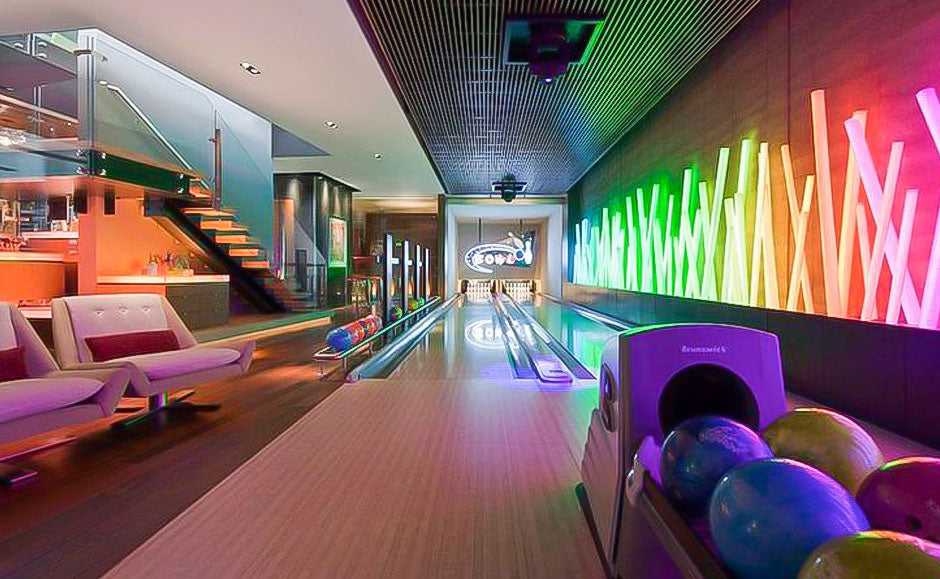 A sure-fire way for drinking at home to be more fun that going out, is make a home bar like some of these examples! This week, I (Pleepleus) went down a rabbit hole of the interwebs to find the 10 best, coolest, most outrageous home bars across the globe.
Grab yourself an adult beverage and drink along! You're going to love these!
pac-man heaven (#10)
The creators of this Pac-Man home bar really stepped up their game! It could use more bottles of booze (in my humble, monkey opinion), but the maze work of shelves has me searching for ways to to escape Inky, Blinky, and Clyde (If you don't get that reference, I'm sorry that you never got to experience a mall arcade with a pocket full of quarters) 
holy ship! (#9)
If you can't get out to the boat, bring the boat into your house! The creators of this marine-themed home bar brought the aft (that's fancy boat speak for "back") of an actual fishing boat into their house. I can almost hear the ocean! Quick, someone get me a sea breeze (vodka, cranberry, and grapefruit juice). Stat!
tiki time machine (#8)
I'll make the argument that the objective of a tiki bar is to transport you to and time and place when you were sipping wonderfully fruity cocktails on a tropical beach. In my humble opinion (keeping in mind that my head is full of stuffing), there are no lengths that you can go to to overdo a tiki bar. The more palm fronds, bamboo, and shrunken heads, the better! Get me a mai tai, I'm going to be here for a while!
grotto love this! (#7)
It's nearing the end of summer and I need a relaxing vacation! If I had my druthers (and knew what druthers were) this is where I'd be headed! Swim from your living room to the bar, grab a drink, and then doggy paddle over to the built-in lounge. I got me some cucumbers, a face mask, and a coconut mojito! Come back and check on me in a week!
is "too much" a thing? (#6)
Is there such a thing as "too many televisions?" This home bar has more screens than a Vegas sportsbook! Watch every sporting event imaginable all at once! Kick back with a beer, and prepare for media overload! 
ahoy, matey! (#5)
There may be more themed-out pirate bars out there, but not one owned by NASCAR driver, and winner of two Daytona 500's, Dale Earnhardt Jr! This bar can be yours for 3.7 million dollars. And, get this, if you buy the bar, they'll throw in the entire house. What a deal! 
not monkeying around (#4)
I'm a monkey, so I fought for this to be at the top of the list. In fact, I thought our entire list of bars should be in trees. I stand firmly by that point. Should you travel to Japan, you can actually rent out this tree house (with a bar inside) located in 

Treeful Treehouse EcoResort in Okinawa.
raising the bar (#3)
The saying (in Scotland) is that the Irish invented whisky and the Scotch perfected it! But there's  nothing like the coziness of an authentic Irish pub. This home bar (yes, this is actually in someone's home) ornately and authentically captures the spirit a traditional Irish pub. "Barkeep, I need a pint of the dark stuff! And keep 'em coming!"
a slam dunk (#2)
To be fair, this may actually be a basketball court with a bar, rather than a bar with a basketball court. Either way, this place is the shizzle! Being able to hoop while you drink is a great way to have fun, stay in shape... and probably vomit at some point. I don't care. I'll take it! 
i'm bowled over by this one (#1)
This home bar has it's own bowling alley. What's more fun that drinking and bowling!? OK... I can think of several things. BUT, if I had this set up in my basement, I would have more friends than I could "spare". That is why I put this as #1 on my list!
How did I do? Do you agree with my ranking? I'd love to read your comments on my Instagram or Facebook page.
Cheers!
Pleepleus
P.S. Thanks for reading!  If this is your first time here, welcome!  Take a look around the store and if you see anything you like, make sure to use code JOURNAL10 to take 10% off your first order!  Cheers, Pleepleus
---