10 weird oktoberfest facts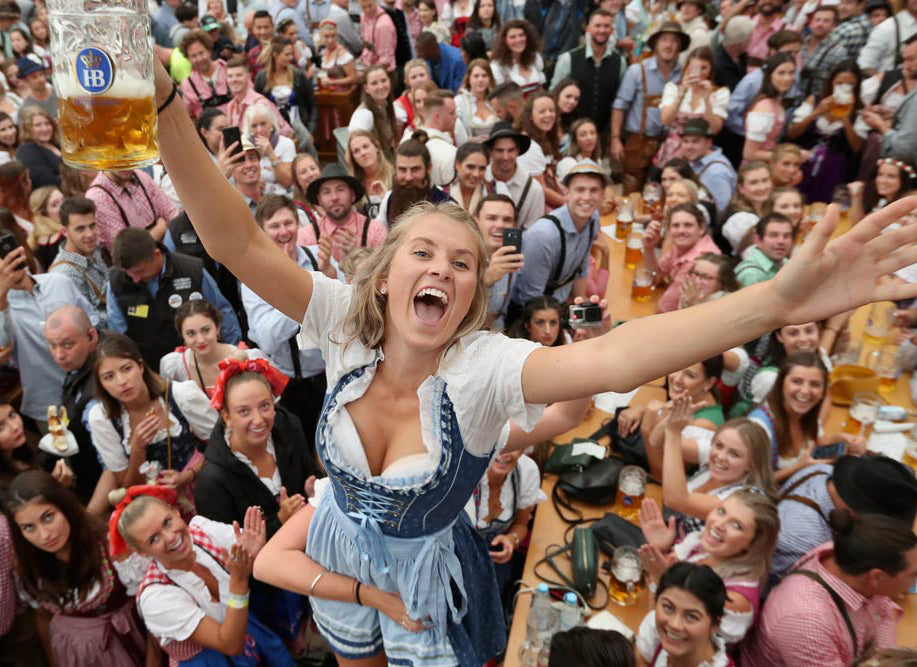 Wunderbar (wonderful)! Oktoberfest starts this month!
Held from the middle of September to the first weekend in October each year, Munich's Oktoberfest is attended by over 6,000,000 people. The original event was a royal wedding in 1810, but people had so much fun that they decided to hold it every year. The annual festival now brings in over $1.5 billion to the city of Munich (making it worth dealing with two weeks of public drunkenness).
Here are 10 weird facts that I bet you didn't know!
#1 I'd tap that!
Set your calendars for noon on the first Saturday of the event. That's when the Mayor of Munich taps the first keg, exclaiming "O'zapft is" (It's tapped!). Only when the mayor has tapped the first keg can the beer begin to flow!
#2 "sick" shoes, bro
We're not making this up... In 2017, Adidas released their Munchen Oktoberfest sneakers billed as "DPBR", which stands for "Durable Puke and Beer Repellent". Beer, your vomit, and the vomit of others will easily wipe from your kicks!
#3 beer me
Waiters and waitresses at Oktoberfest can routinely carry 10 BEERS at one time (which is about 50 pounds!). Oliver Struempfel, the world record holder for this feat, managed to carry an astounding 29 beer-filled glass tankards (weighing in at almost 300 pound) at the required distance of 40 meters.
#4 free souvenirs?
In 2018, an impressive (but not surprising) 101,000 beer mugs were confiscated from festival-goers trying to sneak them out of the event as souvenirs. They are available for purchase...
#5 pools of beer
In 2016, 1.98 million gallons of beer were consumed during the 16-day Oktoberfest event, which is enough to fill three Olympic-sized swimming pools. Cannonball!!!
#6 beer = mc
²
Classing up the list a little is the fact that Albert Einstein once worked at Munich's Oktoberfest. Theoretical physics apparently wasn't paying the bills, so in 1908, at age 29, Al worked at the festival as an electrician's assistant. His job? Screwing in lightbulbs.
#7 cancel culture
The Munich Oktoberfest celebration began over two centuries ago, however it hasn't been smooth sailing since its inception. The event has been canceled 26 times, most recently in 2020 and 2021 because of stupid COVID. Prior reasons for canceling the festival include wars, hyperinflation (in 1923 and 1924), and the cholera epidemic.
#8 that's in-tents!
While they may have started out as actual tents, and are still called "tents", the Oktoberfest venues are now solid structures that are constructed each year for the event. It takes over 10-weeks of construction to build each of the 39 "tents", the largest of which can hold 11,000 people at one time.
#9 lost & found
In 2019, the Oktoberfest Lost & Found Department unsurprisingly reported receiving 840 IDs, 460 purses, 320 phones, and 400 sets of keys. Some more interesting lost items include a garden gnome, a set of 30 decorative hunting knives, a tuba, one Segway, two wedding rings and eight children.
#10 no reservations
Buckle up for the most surprising fact of all! If you think you can just prance into the festival, strut into a tent, order up a beer and get your drink on, you're - well - actually correct! Reservations are not required, admittance to the festival and to the tents is free.
HOWEVER! When the tents are full, they stop letting people in. If you are traveling to Munich for the event, don't be a dummkopf (idiot). Make reservations and accommodations many months in advance.
Prost!
Pleepleus
P.S. Thanks for reading!  If this is your first time here, welcome!  Take a look around the store and if you see anything you like, make sure to use code JOURNAL10 to take 10% off your first order!  Cheers, Pleepleus
---